[dropcap]G[/dropcap] The millennial weight loss mantra GLUTEN is the name for proteins found in wheat ( गेहूँ-gehoon),  rye, Barley (जौ). The protein holds the food together acting like a glue helping the food attain desired shape. When flour like wheat or barley is mixed with water gluten helps the food stay elastic and consistent. 
Who is affected by Gluten: –
Gluten related problems are of three types- celiac disease, non-celiac gluten sensitivity or wheat allergy. Common symptoms of celiac disease include nausea, bloating, diarrhea, constipation, tiredness, joint/bone pains. It is best advised to get the celiac condition clinically tested if you are speculating one. If after eating a cereal, bread or pasta you feel like you are having stuffy nose, stomachache you probably might have a wheat allergy and not a celiac disease. Sense how you feel next time you consume wheat. 
[pullquote-right]Don't run towards a fancy gluten free fad if you are not diagnosed with a gluten problem. Depriving certain category food items from diet leads to loss of vital nutrients, more so processed foods never have properties like in raw food.[/pullquote-right]
The current trends(reality is still unknown) have implicated many people being intolerant to Gluten or wheat in particular. Fitness advocates say that avoiding gluten-a hard to digest protein- found in wheat, barley, rye leads to better energy levels and removes ill-health issues. If you are on a gluten free diet or have been advised by an expert to move to one, the following list will help you plan a gluten free diet without feeling starved for food.
Indian Food and Gluten: –
Fresh vegetables, Lentils, Fish, Meat, Dairy, Rice (BIRYANI too); primarily all the Indian cuisines are gluten-free. Entire plethora of vegetables made in Indian homes are gluten free, provided you have not coated food items with wheat flour and then used it. Potato, Paneer, Aloo Gobhi, Pulao, Ginger, Garlic, Saffron, Peas, Cucumber, Yogurt, Paneer tikka; the majority menu falls in the gluten free basket. 
Breads: –
Naan, Garlic Naan, Parantha, Aloo Ka parantha(☹), Roti, Tandoori Lacha parantha(☹), Bhature(☹) foods from the varieties of wheat are off the radar when on a gluten free mode. Rice or Rice based delicacies like Biryani, Dosa, Paneer Dosa(😊) are game for you. Avoid foods made from wheat, barley, rye to stay on a strict gluten free, or If I were to coin in Indian terms Sooji, Maida, Gehun are popular gluten containing foods.
India the land of agriculture provides you with alternatives of wheat like bajra, jowar ragi, rajgira, singhada atta, white poha, kurmura and sabudana; so if wheat is off the table you are better off ordering MAKKE KI ROTI & SARSON KA SAAG than ROTI tomorrow.
Struggling with diet concerns? Drop a mail to admin@commoncelebrity.com
Popular Gluten Foods:-
French Fries or Fried Vegetables. TRY ROASTED rather than Fried with flour layering.

Mayonnaise

Bread, Pasta, Noodles and their extended family (the list is long)

Oats, Oats Bran (Unless specified GLUTEN FREE)

Beer, Lager, Wheat are a strict NO NO. Replace it with Gin, Whiskey, Wine and Rum (KEEP WALKING)

Sauces (Soy Sauces)

Processed Foods. It is always a NO in any diet

Salad Dressings. Whats a Salad if its loaded with 500 Calories.
Desserts Season: –
Rasgulla, Besan ka Ladoo, KalaKand, Rasmalai is a small list of delicacies you can drool in all season. White flour or popularly known as Maida is the evil in desserts you need to check out. Forgive me I forgot to add GulabJamun's to the list.
For those falling in the fad of gluten free for weight loss: –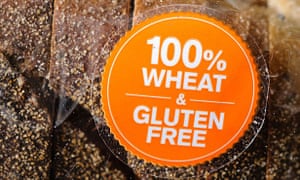 Gluten free by no means healthy, it might act as a short-term catalyst in your weight loss journey but will surely not lead you towards your end goal. Majority of the food labelled Gluten-free is processed and packs on pounds impairing your ability to lose weight. These products are generally labelled in a mysterious manner which result in drastic weight gain when consumed over an extended period of time. Managing carbohydrates is the best way to lose weight and stay active in the long run rather than falling for fancy gimmicks.               
Got a list of Foods to help lose weight on a gluten free diet Shout out on twitter
Stay Raw-Stay Unshakable
Happy Karma!!!
Follow us on Social Media
cover image courtesy: https://cdn.shopify.com
Disclaimer: Material contained on this website is for informational purposes only and not to be substituted for professional medical advice
Hi!! I am a full-time health and fitness blogger living in Delhi, India. Somehow I made my passion for fitness inculcated into my Work Profile. My goal with my blog and videos is to enable your passion for healthy management of Work-Life Balance.
Comments